How-to Tackle Sunday planning. 💃🏽
Flipping reactive rushes into proactive plans.

After working with thousands of parents, there is one thing we've found separates a week that you feel great about - where you feel in control and things are going as they should be, and a week that you feel like you're just hanging on by the fingernails and just trying to "get through".
And that is: having a proactive approach vs. a reactive approach, where you have an overview of the week ahead and identify any tricky parts and problem solve ahead of time. It's having a plan A for how you'd like things to go plus a Plan B (and let's face it, Plan C) for when things inevitably go awry. It's not, as many might think, planning for every possibility, but rather, knowing beforehand how you're going to deal with situations that go sideways and catching gaps before they turn into full-on fires.
So we're kicking off our Parenting Like a Pro series with something we've found is a staple in a ton of busy working parent homes - the Sunday check-in. A quick, proactive review of the week that covers what's coming up and uncovers any gaps.
We've dug into how a broad range of families do theirs and we've broken them into easy-to-plan for pieces for you.
Our recommendation is to create the habit at a committed time every week (maybe it's over Sunday morning coffee or in the evening after the kids have gone to bed) to plan for the week ahead. Choose the things that are important in making your family run smoothly each week.
Ideally, this is done with both partners to both of you feel involved and in the loop about all the important things, no matter who will be doing most of the family-related work.
Alrighty. Let's do this.
Sunday Check-in 📝
See if you can find 10 minutes today to review whatever is most relevant to you:
1) 📆Schedule review - Start by pulling up both work calendars plus the family calendar (Consider creating one if you don't already have a family calendar. A separate family calendar is particularly helpful once your child is around 3 and starts having a schedule of their own with preschool and activities.)

Do a quick review of the week - any travel, early meetings, late events? Make sure they're all in the family calendar so you can track any conflicts. Key things to look for: gaps in childcare - maybe one person is travelling on Tuesday but the other has a late work meeting. Make a list of all the gaps and then reach out to your back-up bench to get them filled.
2) ☀️🌙AM/PM responsibilities - Who's on to handle handoffs every morning and evening - whether it's dropping off at daycare or relieving the nanny. It can be a set schedule or figured out each week. Many parents will put these shifts into their work calendar so it's easy to remember and meetings don't get planned on top.
3) 🥦 Meal plans - This is simpler than it sounds. Let's focus on dinners (and school lunches if you have that joy). Come up with a list of meals that are popular with the family and just write 'em down.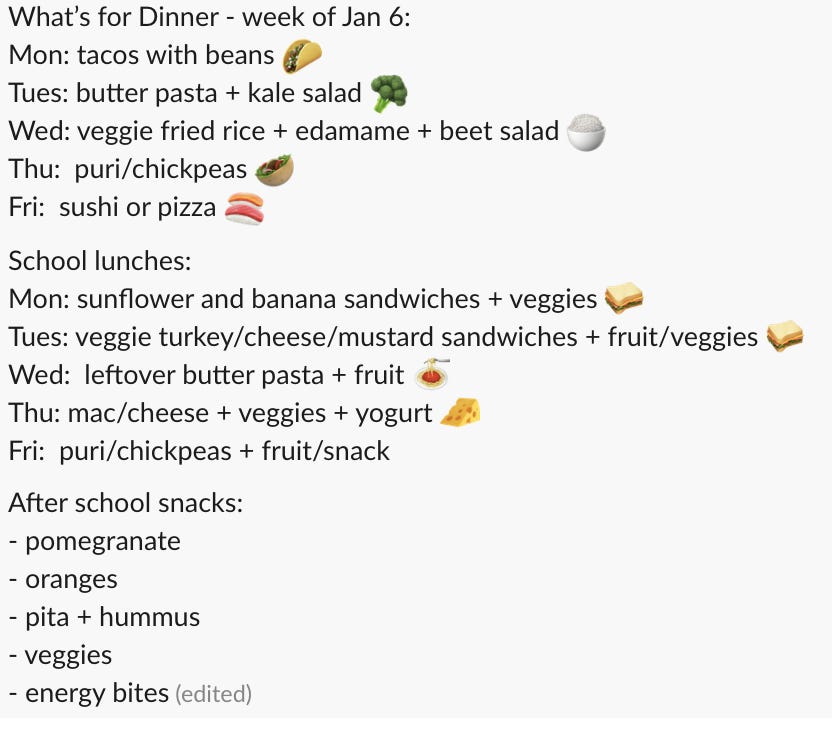 Even something this basic makes getting groceries easier and puts an end to the daily question "what's for dinner?". We've also gotten feedback that it's helped cut down on last-minute order-out meals - which saves money and is healthier all around.
4) 🤞🏽Key reminders - The endless little reminders are ones that almost break us all. Things like - bring $5 for a school field trip or pyjama day at preschool. Maybe it's registration for swim lessons opening at 8am on Tuesday or the nanny needs to leave at 3pm on Thursday. Get them in the calendar - the added benefit is that now it's not down to one person to remember it all.
5) ✅Priority to-dos - Look at your family's general to-do list and pick the top 2-3 that you want to focus on getting done this week. Maybe it's calling the plumber to fix a leak, booking the holiday hotel or finding a piano teacher. By focusing on only 1 or 2 per person and clearly breaking out all the subtasks, you'll stand a better shot at getting it done (eg. instead of "register for summer camp", try "create list of top 10 options" and "ask 3 kid-friend parents for their options").
Phew. I know what you're thinking - that all sounds great, but can you just give me the thing we can use? Yes we can.
We've collected countless ways that many of you do this already - in formal and informal ways - and we've put together a couple of options if you'd like to try it out.
1) The basics: In a 5-minute speed round - pull open both of your calendars and just talk over the week, focusing on anything not usual - no school days, work dinners, early meetings.
2) The written down review - for those that love writing down the plan and posting it on the fridge, here's a quick template that covers the things above. (I literally just used this to figure out we hadn't figured out childcare for this Friday's No School day 🙈)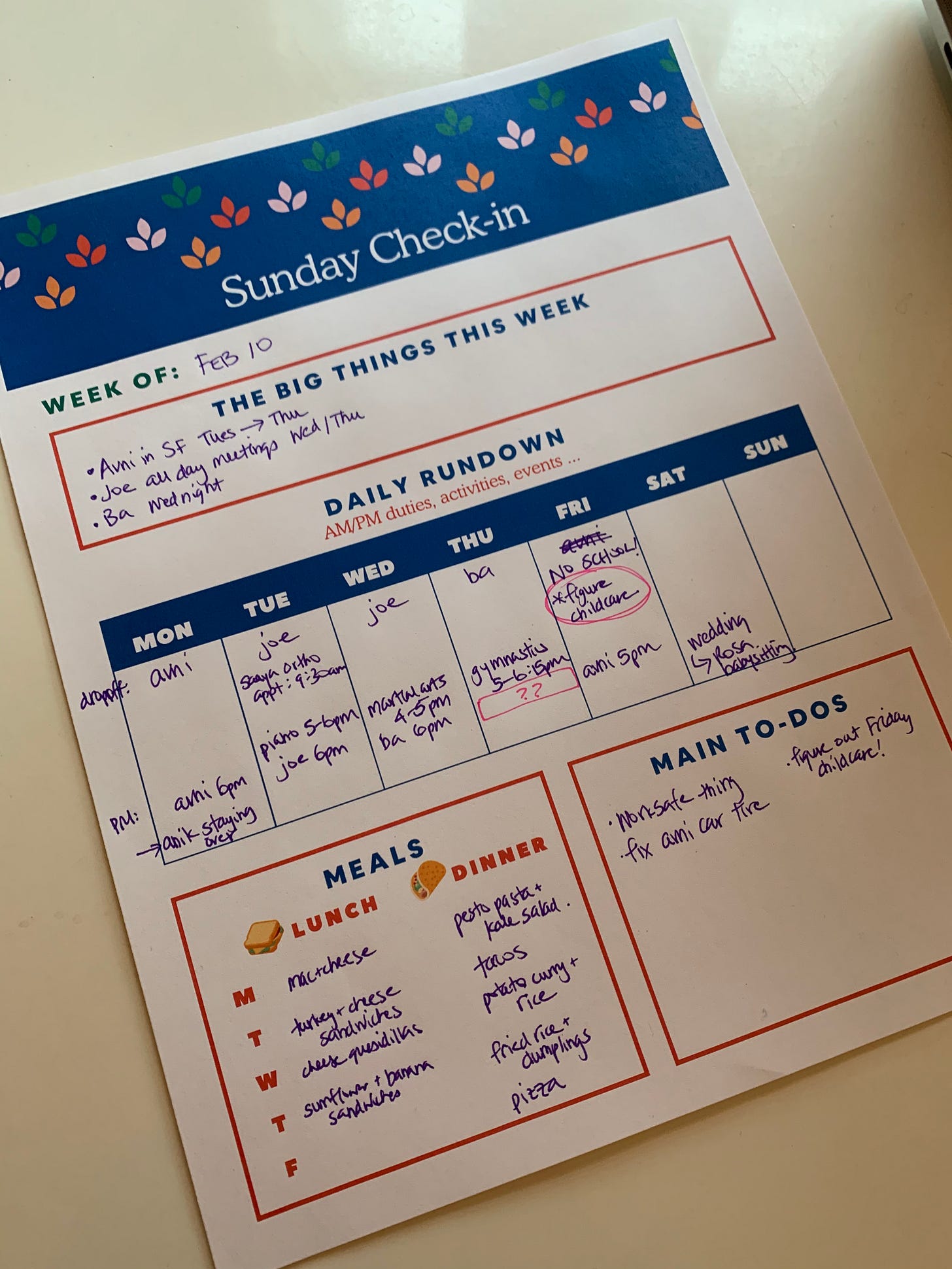 3) The email - write up a quick email and email it to everyone involved in the week.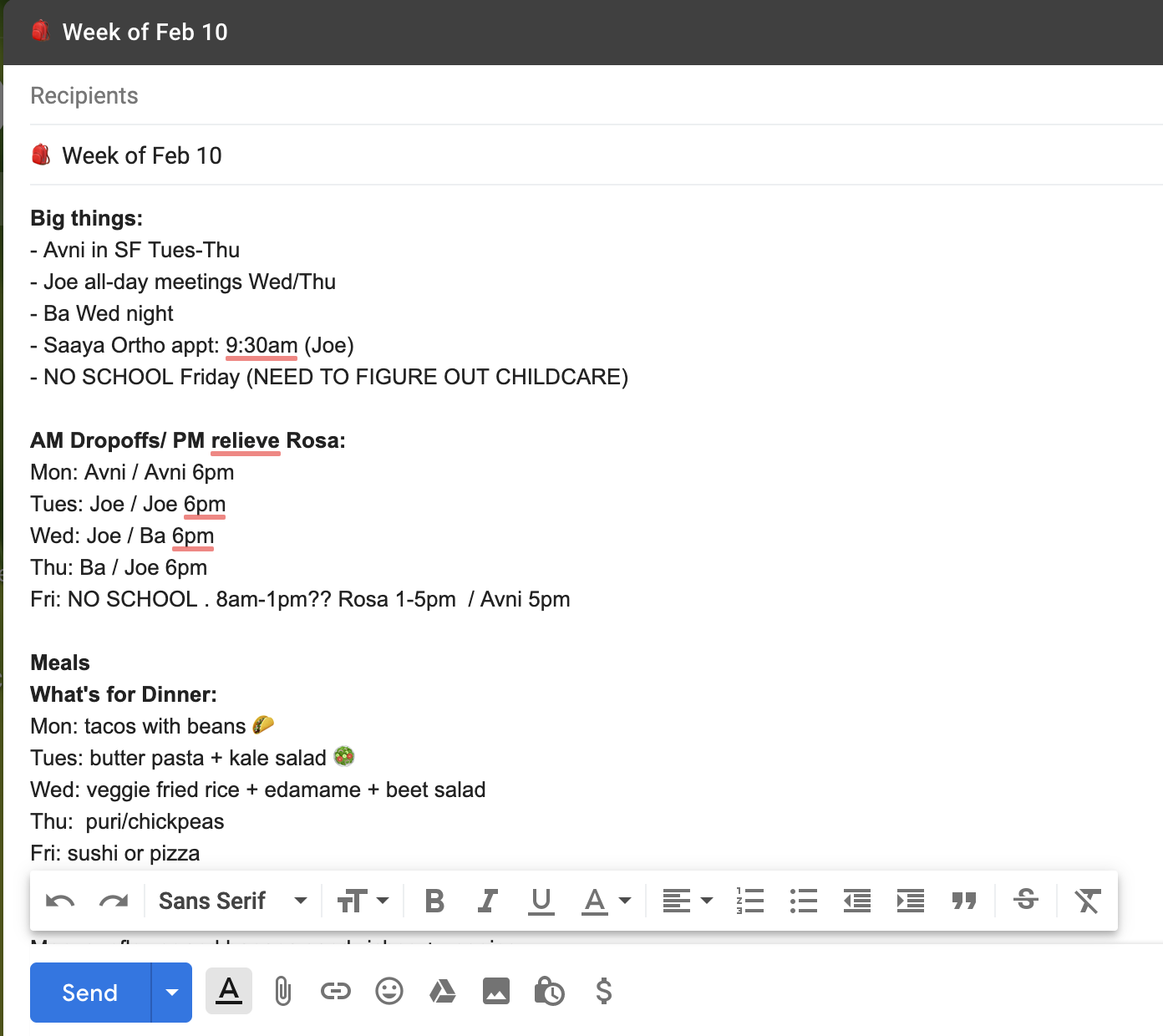 There you have it. The first Parent Like a Pro tool. Collected from the lives of hundreds of families doing this each week and shared out to everyone to save you from reinventing this wheel.
Do you have tools that you use for weekly planning or something that wasn't covered here? We're always looking to add to our best practices - email us at hello@modernvillage.com or upload your tools here: https://themodernvillage.typeform.com/to/CpIfhT
Was this helpful? I'd love if you would share with 4 or 5 parent friends. Was it not so helpful? I'd love to know why - email me at avni@modernvillage.com.
Until next week.
Let's parent forward.
-avni
Coming up:
🏕 Summer camps and kids activities are a constant. How should you think about them and what are tools to help plan?
💰Family finances. What are the biggies that we should all be thinking about and what are the tools and services making it easier?
🥰Relationships - it can be hard to figure out how to find the time and energy to invest back into our relationship with our partner. How do others do it?
Do you have tips, tricks or tools that you think could help everyone? Share them here: https://themodernvillage.typeform.com/to/CpIfhT