👧🏽👧🏿👧🏼 How to talk to our kids about race.
We all bear the responsibility of educating ourselves and our kids, so here's some ways to start and continue.
📰 The Topic
The past couple of weeks have laid bare the thing we've been fighting long before COVID. More senseless deaths but worse, with the Amy Cooper incident, the insidious, deeper complexity of how our relationship with race plays out everyday.
There are so many feelings - despair, heartbreak, outrage, helplessness. As parents, we feel it on two levels - one for ourselves and our lives but then doubly for our children and the world they are growing into.
Today, we want to share some ways we can all work towards the change that is so long overdue - from educating ourselves, to talking to our kids to donating our time and money to the organizations dedicated to the hard work of change.
In our home, race is a very present topic as we raise multiracial daughters but it's not one we've actively broached. I've always assumed that the "colorblind" approach of
"we don't see color" is the right one… but over the past week I've learned how this "color silence" can actually be harmful and how we should be talking about it instead:
I live somewhere in the messy complexity of being brown and experiencing "otherness" regularly, but knowing that my kids' whiteness maybe saves them heartbreaking realities other kids will face. I honestly don't know how to feel about that. But maybe that's why I feel such urgency to engage our girls in this conversation now.
None of this is easy. So we wanted to find some suggestions and resources for parents to get started. We've collected podcasts, articles and books to help get educated and dive into the topic with your kids. We've also shared a couple articles and suggestions for how we can support change through donations, volunteering and advocacy.

With love and strength to everyone as we all do this hard but so necessary work.
🧰 The Tools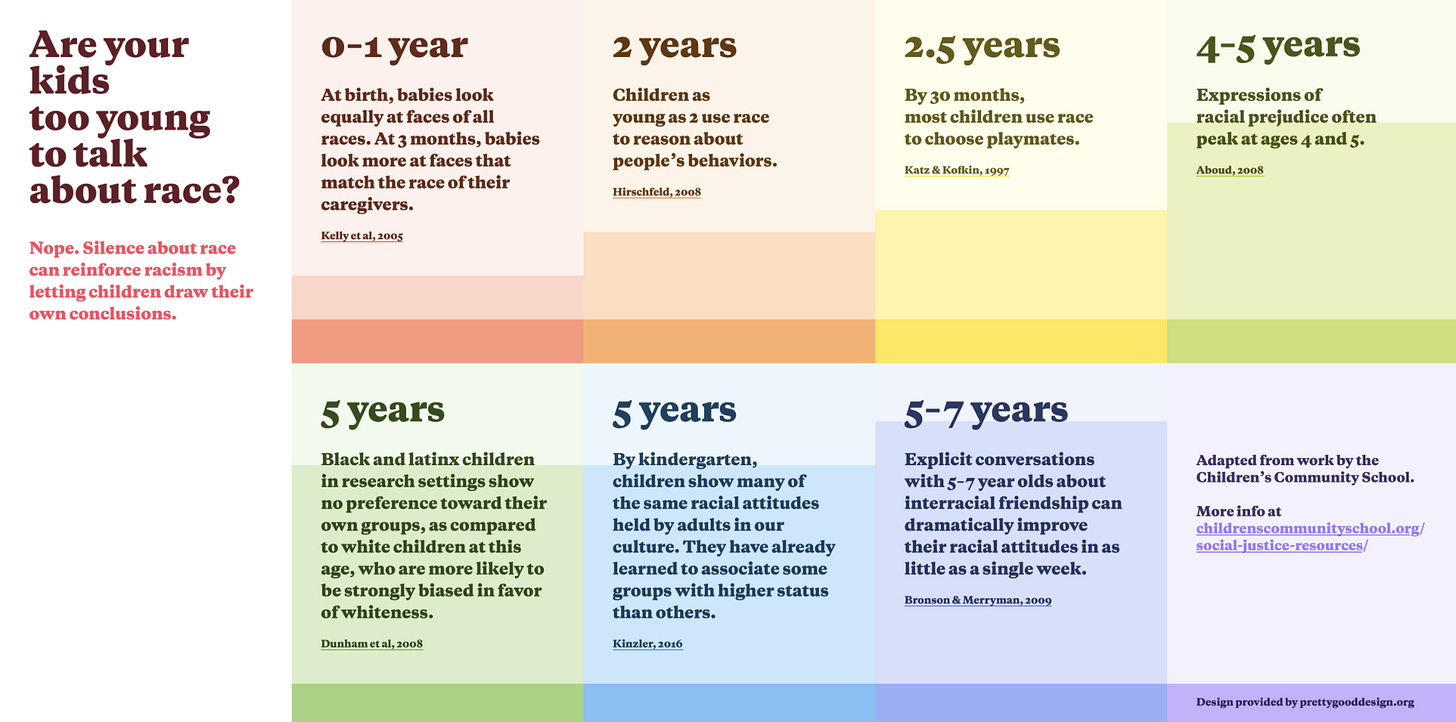 🧐 Worth Reading/ Watching
For us parents, here are some articles and resources on what we can be doing to support and drive change:
📚 Kids Books