📝 How To Set-up Learning at Home
Your guide to the designing the space and the setting up the tech you need to make learning at home successful and fun this year.
Today, we're unveiling the new and improved Parent Like a Pro from Modern Village.
Each week, we'll be focusing on one How-To -an area that many parents are dealing with. We break it down and share best practices in a simple and easy to tackle format, with options to suit the wide range of ways we all parent.
This week? How to Set-up Learning at Home - whether it'll be an everyday thing or a backup and homework thing.


👋🏽 Intro:
Gear up for successful learning at home by thinking about the space, the set-up and the tech. We walk through the top considerations and offer 3 set-up options. We round out the guide with a gear and supplies list and share a related guide on How to Set-up the Tech.

🤓 The Learning Space 101:
🖥 Dedicated workspace - Whether it's a separate room, a special area or simple the kitchen table, create an area that is consistent and reserved for daily learning.

📚Organized - Creating a successful organization system from the start will help everyone - from places for supplies to the inevitable deluge of assignment papers. Options range from desk storage to bookshelves to organizer carts to bins. Figure out a home for everything to make sure there's no wasted effort in finding things and that it all returns to its place at the end of the day.

🪑Comfortable seating - Focus on good posture, right height and minimal distraction (eg. roll-y wheels).

💡Proper lighting - Natural light is great or supplement with a table lamp, but make sure the kids don't have to strain to see their assignments.

🤫 Quiet and distraction free - Test the area for noise and distractions, especially if the space is close to where others in the family will be working/playing or near a window with lots of stuff happening outside. Pick a space that allows for focus and get a pair of noise cancelling headphones just in case (here are some).

Bonus: 👯‍♂️Make it your own - Set up the space up together, allowing the kids to express their creativity in personalizing it - from learning posters on the wall, to decorating notebooks and organizing supplies.


✨ Your Options
Here are three ways you can create simple but functional learning spaces, depending on the room and budget you have available.
1. Learning Lab:
If you have ample space in your home (or backyard/garage), you can choose to dedicate a room to your kids' learning. Use the Kindergarten Model to create dedicated "activity zones" - like a reading zone, videos and tech zone, play zone etc. Decorate the walls with posters - bought or handmade.

From Jennifer in Massachusetts: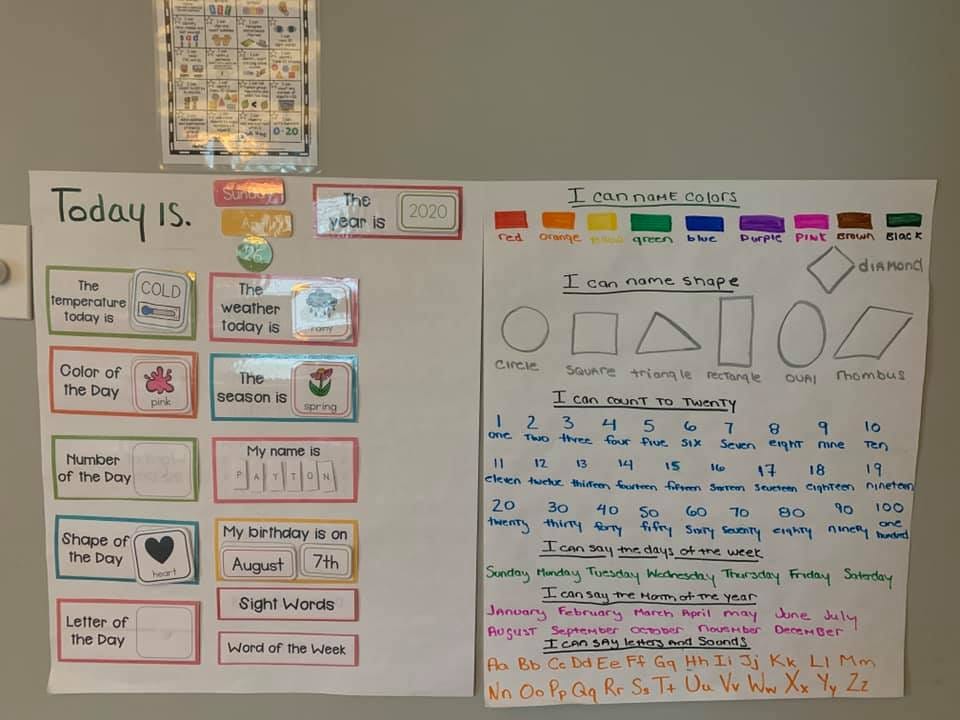 From Erika in Utah: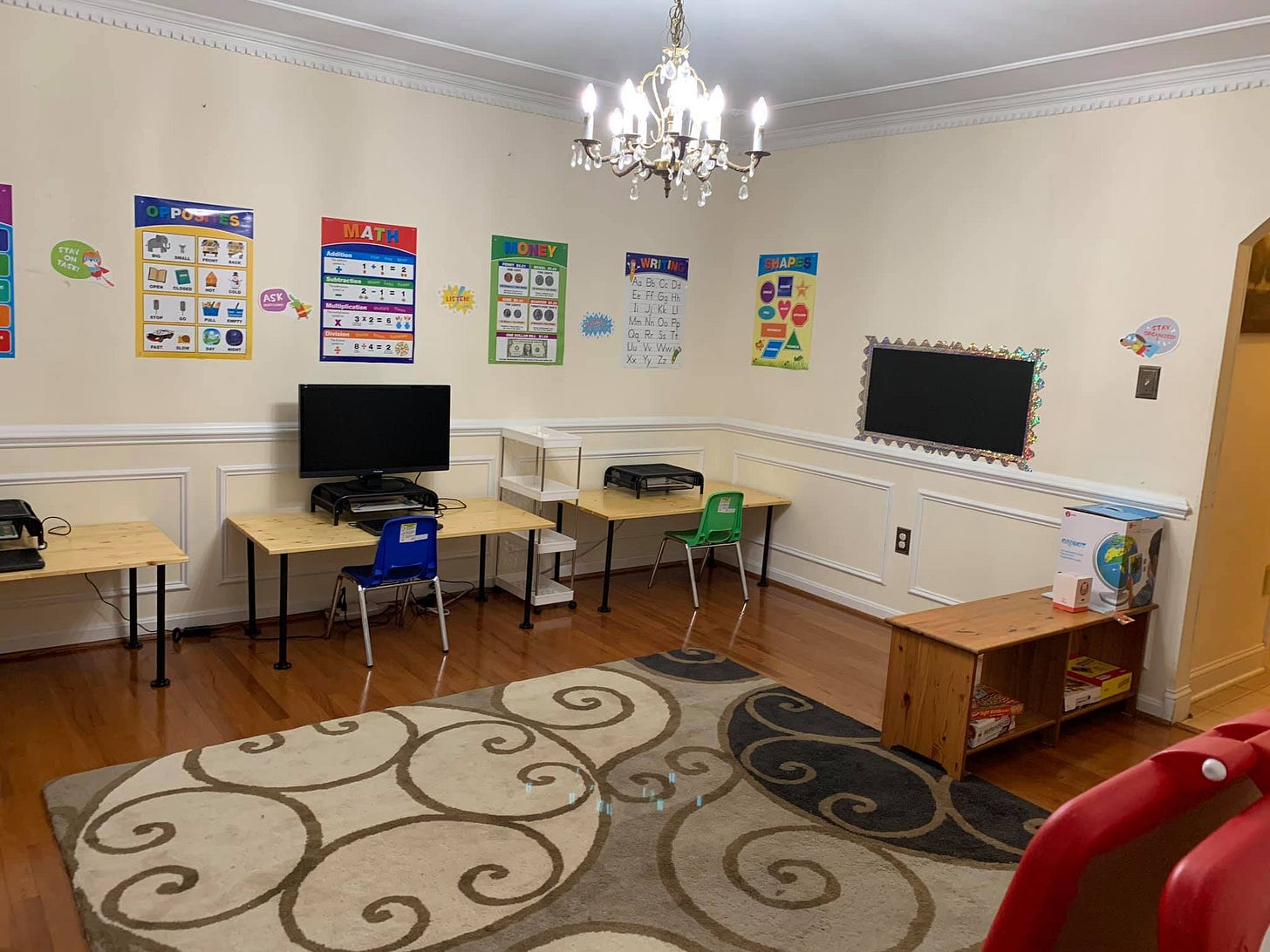 2. The Quiet Corner:
If a whole room for learning isn't an option, get creative and carve out space in a quiet corner somewhere. Ideally there's good (natural) light and a power outlet nearby. Install a wall-mounted desktop or a folding desk that comes out during school and tucks away after. Don't forget a chair. Stock a bin with school supplies, and puzzles/games/books and keep it close. Add a fun poster, and some personalized elements like a desk tag or monogrammed pencil case.

From Sindy in Georgia: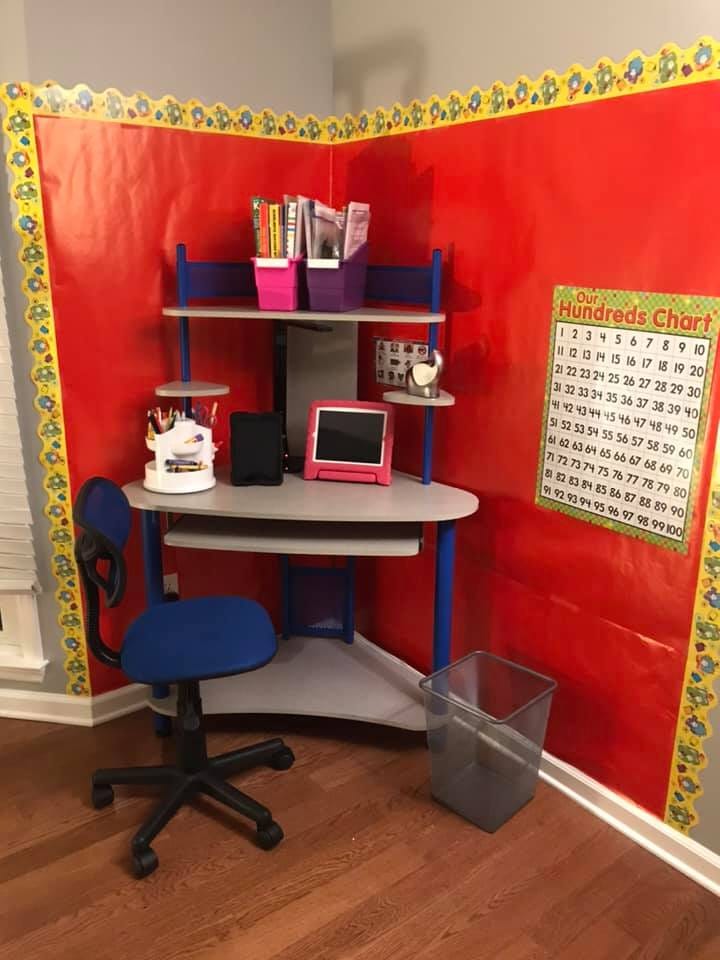 3. The Mobile Classroom:
No room, no problem. Designate a space at the kitchen counter or other table, and keep it consistent. A lap desk that can be quickly packed and unpacked can host frequently-used supplies and your child's device, making it easy for your family to neatly pack away school when the day is complete (or for lunchtime!). Store back-up and lesser-used supplies, puzzles/books, and tech devices in an easily-accessible bin that gets tucked into a closet at night, or get a rolling cart with drawers to store everything.
From Angelina in Kentucky: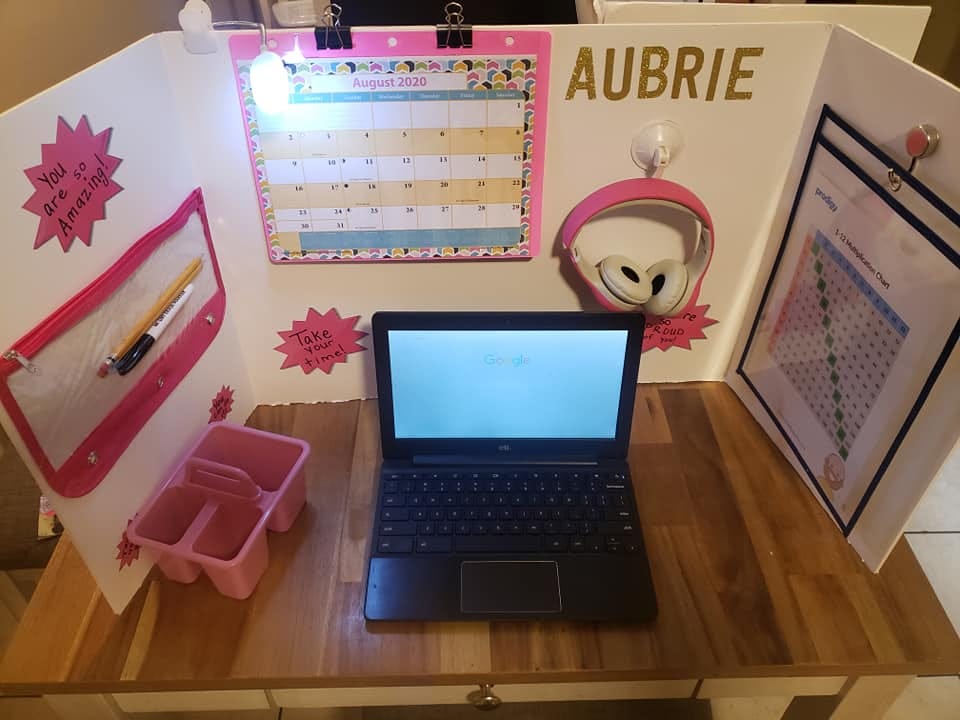 🧰 The Details + Tools
Here's a list with the basics you'll want to consider, with picks from parents in the community.
lamp

bookshelf or bookcase

comfy reading chair or beanbag chair

reference books and learning tools (dictionary, puzzles, games)

storage bins/ rolling organizer - IKEA

clock/timer

small trampoline/bouncy mat/ games for motion breaks

devices + chargers (tablet, monitor, laptop)

noise cancelling headphones

power strip/extension cord

whiteboard + markers
Ergonomic seating guide from All Inclusive Therapy Services: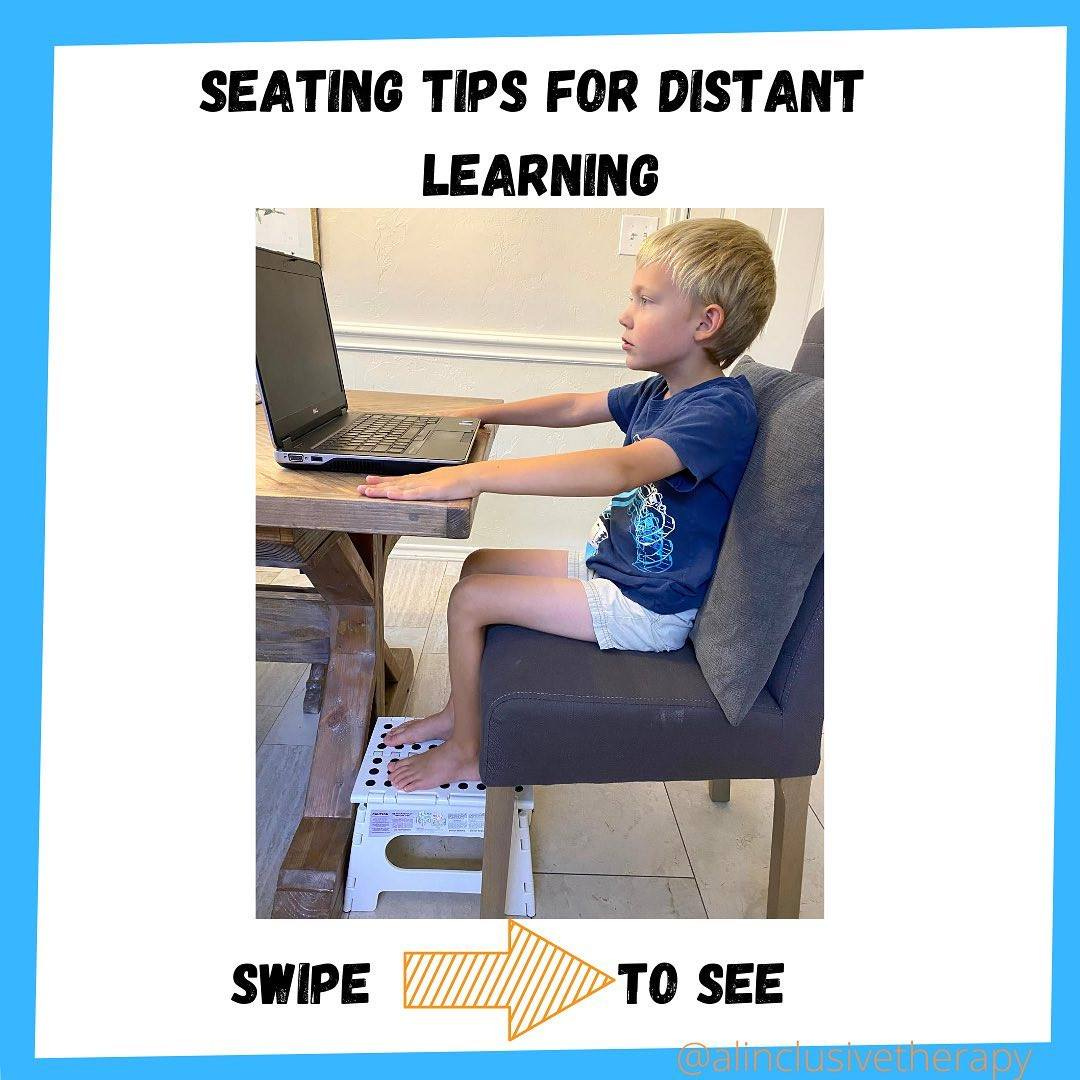 📰 Read more:
🖥 A related and important part of setting up for learning is having a great Tech setup. This guide from fellow parent, Vishwas Prabhakara, walks through each of the most important components: video, audio, device, internet and suggests some options.
🧰 MV Tools
For our Beta users, you can add this guide directly to your Dash as a to-do by just typing: How to Set up Learning at Home.